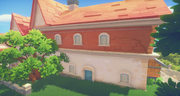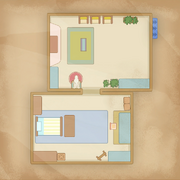 "
Albert came to Portia a few years ago when his friend Gust proposed setting up a construction business. As a partner in A&G Construction, Albert is always coming and going to projects all over Portia and the surrounding city-states. In his spare time, he likes to go on dates with ladies and look for love.
"
Personal summary
Edit
Albert is an extroverted ladies man with some notoriety before the player even arrives but, on the inside, he has some insecurities. He is also a very competent businessman who is very involved in the expansion of Portia's infrastructure.
Albert was not born in Portia. He came to Portia when his long-time friend Gust proposed setting up a construction business, and thus the A&G Construction company (Albert & Gust Construction Company) was born. Albert specializes in the construction and management aspects of the company. He is adept at liaising with others in the industry and is often Mayor Gale's go-to man to coordinate collaborative projects.
Albert likes to try his luck with women and is always asking one person or other to go out with him. His interests include his best friend's sister, Ginger, the doctor's assistant Phyllis, and the restaurant waitress Sonia.
Physical appearance
Edit
He has fair skin and blue eyes. He has very dark brown/black hair trimmed and parted on the left with a loose strand hanging near his parting. He chooses to keep clean shaven in keeping with his slick businessman persona with the exception of his sideburns which he keeps thick but well groomed. He wears a white dress shirt with light brown trousers with matching belt. His smart gray pointed tipped shoes match his waistcoat adorned with silver buttons perfectly which he uses to keep fastened at all times. He finishes his look with a scarlet neck-chief that proudly completes his ensemble.
Related characters
Edit
Albert doesn't have family in Portia, but he is close with Gust, his Friend and business partner at A&G Construction. He isn't in a committed relationship, but he does seem interested in women, particularly Ginger, who is Gust's sister.
When befriending Albert, his relationship network with other NPCs will also be affected, resulting in the player receiving favor points from those NPCs as well. Note: Ginger is not a part of Albert's relationship network.
At the end of the day he goes to his home, which is hidden around the back of Presley's home. His home is open from 7:00 AM to 21:00 PM.
| Time | Location |
| --- | --- |
| 7:00 | |
| 12:00 | |
| 17:00 | |
| 22:00 | |
| 0:00 | |
| Time | Location |
| --- | --- |
| 7:00 | |
| 12:00 | |
| 17:00 | |
| 22:00 | |
| 0:00 | |
Relationship
Edit
Albert is one of the potential bachelors that the player can romance.
Upon reaching Friend status at four full hearts, the player can confess their love to him with a Heart Knot. If the confession is successful, his relationship status changes to Boyfriend. After Albert has become the player's boyfriend, upon reaching Lover status at eight full hearts, the player can then propose to him with a Wedding Ring. If the proposal is successful, his relationship status changes to Husband. Once certain other conditions have been met, Albert and the player can then try for children.
Additionally, upon meeting certain relationship levels, perks are rewarded.
Buddy

10% less materials needed for homestead upgrades
Husband +

A chance at receiving gifts first thing in the morning
Social Interactions
Edit
Giving gifts to Albert affects the player's relationship with Albert. Every character has unique gift preferences.
Tips:
Every giftable item, except for the items below, will have a Neutral (+1) effect when given to Albert.
Gifts given on festival days and on Albert's birthday will earn the player 2x and 3x relationship points, respectively, and will show a unique dialogue.
Values listed below are without The Giver skill, which gives an extra point.
Gifting
Items

Love      +20

Love      +15

Love      +12

Love        +10

Like        +8

Like        +6

Like        +5

Like        +4

Like        +3

Dislike        -1

Dislike        -2

Hate        -5

Version
2.0.137299
Listed values are without The Giver skill, which gives an extra point.

Gift values displayed on this chart are for the PC release of My Time at Portia and may not apply to the console releases.
The following items are desires, or wishes, which are randomly assigned to one or two NPCs per week. In the event that Albert has a desire, gifting the wanted item will provide the higher tier points; otherwise, on non-desired events, the item gives the base point value. Some NPCs may desire an item that they do not normally like.
The Pot of Asteria will appear on a bedside table inside Albert's house if Albert receives it when desired. If given the Golden Necklace as a desire, he will wear it for a while.
Desires
+25
+15
Albert can spar with the player up to three times per day.
Note that the level in the table below is Albert's base level at the start of the game. Albert's actual level can be higher because Albert will level up over time.
Below is a gallery of Albert's poses in group photos.
InvitationEdit
Occasionally, first thing in the morning, the player may leave their house to find Albert outside, hoping to invite the player out for a date or play date.
Once the player has become buddies with Albert, they can schedule a play date together.
After the player has successfully confessed how they feel to Albert, the player can schedule a romantic date with Albert.
If the player chooses to dine at The Round Table with Albert during a play date or date, it is recommended to order dishes Albert will like. If asked before ordering, Albert will sometimes tell the player exactly which dishes to order; other times, Albert will just give little hints. In the event that Albert does not specify the exact foods desired, the player should order between three and six dishes, depending on what hint Albert gives. It is recommended to order each of those dishes from different courses, ex. ordering one Appetizer, Meat, Vegetable, Dessert, and Drink course each, rather than five Desserts.
Albert's food preferences are:
Dining

Like

Dislike

Appetizer

Main Course

Meat

Vegetable

Dessert

Drink
Exceptions:
Likes to be added: Vegetable Salad, Smoked Fish Roll, Highwind Fried Rice, Sauteed Sweet and Sour Tenderloin, Tallsky Goat Milk
As the player develops their relationship with Albert, special interactions are unlocked, including Hug and Kiss.
Relic tradeEdit
Albert occasionally uses the Relic Pieces Exchange board at the Museum to trade for relic pieces. Albert likes to look at particular completed relics, so after the player has donated such relics to the Museum or displayed them in their yard, Albert may come visit the Museum or the player's yard to view these relics. Such visits will earn the player relationship points each time, with the amount dependent upon the relic.
Relic Trade
Points
Relics
Requested Pieces
+30
+10
Favorite Exhibits
+???
Legend:
major •
minor •

friendship •

romance

Main missions are listed in chronological order, based on the chronology list.
Secondary missions are listed in alphabetical order.
Indented missions indicate succession of the previously listed mission. Further missions in its timeline are in chronological order.
Main missions
Edit
Prepare the necessary building materials needed for the Portia Bridge parts and give them to Albert.
Albert needs your help to install a Water Tower and a Charge Station in South Block. The diagrams are attached in his letter, construct and install them in South Block.
South Block is in need of some wind generators to generate electricity, build and install 3 of them.
We are in need of 10 Waterproof Cloths/Concrete/Igneous Bricks for the construction of the Portia Harbor. We'll need it in 15 days. Please deliver it to the Commerce Guild once you've completed the order.
Construct a Light Beacon for the lighthouse.
A mechanical crane is needed for the new Portia port. Albert suggested that you consult with Petra first.
A warehouse has been burned and the air cooling relic inside was destroyed. Albert wants the player to help make a new cooling unit. Talk with Petra first.
The battle with All Source and the Rogue Knight destroyed the Portia School as well as the Central Plaza gate, they need to be rebuilt.
Secondary missions
Edit
Help A&G Construction deliver some wallpaper samples to customers before 18:00.
This is Gust's romance mission.
Albert needs your help to build a Construction Crane to construct the Portia Museum.
Love Like A Blue Moon

Help Albert have a talk with Ginger.
Help Phyllis deliver some medicine to clients.
Mint wants to make peace with Gust. He asks you to find out what Gust likes.
Perfect Appearance

Albert has something to say to you.
Albert suggest you change the Pumpkin Princess into a room, and use that to propose marriage to Emily.
This is Emily's romance mission.
Help Albert propose.
Spicing It Up

Go to Area by East Gate with Albert.
Alice's garden had a good harvest. She wants you to help her promote the Flower Shop during a sales event.
Talk to Phyllis' friends to find out why she refused to marry you.
This is Phyllis' romance mission.
You've found a package containing architectural plans, no idea who it belongs to, go in the town and find the owner.
Commerce commissions
Edit
Albert may post a commission on the commission board in the Commerce Guild. Below is a list of possible commissions.
Data is extracted from the database.
Rewards do not account for the skill Commerce Hot Shot, which increases the rewards output.
Some items with the same quantity may be listed twice, but each offer a different deadline or rewards.
If the player goes on a play date with Albert before confessing, he talks about other women. Specifically, if the player compliments him under the wishing tree, he talks about a woman in town he desires who doesn't seem to notice him.
Community content is available under
CC-BY-SA
unless otherwise noted.