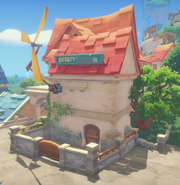 "
A happy go lucky man who claims to be a former knight, although no one's sure if that's true or not. Django runs the Round Table restaurant, the biggest diner in town. He enjoys cooking and talking with his different customers, making him a popular figure in Portia. Django's also the source of most of the rumors in town, where does he source these rumors... no one knows.
"
Personal Summary
Edit
Django owns The Round Table restaurant in Peach Plaza and has employed Sonia as his waitress. He claims that the "knights can always eat for free" there. He can often be found behind the counter at his restaurant, in front of the restaurant practicing with his sword, and sitting on a bench in Peach Plaza.
Django was born on Spring of Day 15. Django claims to have formerly served as a knight in the past, to which his outfit, speech, and mannerism is that of a medieval knight. Django then settled in Portia to live a peaceful life as the brewmaster of Portia's popular diner, The Round Table. His greatest passion is knighthood, with cooking coming in second. To serve and make people happy is the meaning of his life.
Django is one to speak of rumors, often telling his swordsman-in-training apprentice, Toby, about it. According to Django, there were legends about the shining apple, the crying plant and the pretty ghost girl living in the cemetery.
End-game spoiler
After an exhaustive fight with the Rogue Knight during the events of The Final Battle, Django intervenes and prevents the Rogue Knight from attacking the player. The Rogue Knight attempts to bombard Django with a series of attacks but to no avail as Django's fast reflexes prevented the knight from landing a blow. Django then unleashes a lightning charged fist, revealing himself to be the Storm Knight. The Rogue Knight accepts that he cannot defeat Django and flees. Django allows the knight to escape, thinking the knight learned his lesson and will never return.
Physical Appearance
Edit
Related Characters
Edit
Django is Friends with Sonia, who works as a waitress at his restaurant, The Round Table. He also can be found demonstrating sword-fighting techniques with Toby in front of the restaurant.
When befriending Django, his relationship network with other NPCs will also be affected, resulting in the player receiving favor points from those NPCs as well. Note: Toby is not a part of Django's relationship network.
Django's typical schedule consists of working inside of the The Round Table or practicing with his sword outside of it.
All times are in 24-hour format. Certain events may alter his schedule.
At the end of the day, he returns home, which is located x. His home is open from 7:00 AM to 21:00 PM.
| Time | Location |
| --- | --- |
| 7:00 | |
| 12:00 | |
| 17:00 | |
| 22:00 | |
| 0:00 | |
| Time | Location |
| --- | --- |
| 7:00 | |
| 12:00 | |
| 17:00 | |
| 22:00 | |
| 0:00 | |
Relationship
Edit
Django is one of the potential bachelors that the player can romance.
Upon reaching Friend status at four full hearts, the player can confess their love to him with a Heart Knot. If the confession is successful, his relationship status changes to Boyfriend. After Django has become the player's boyfriend, upon reaching Lover status at eight full hearts, the player can then propose to him with a Wedding Ring. If the proposal is successful, his relationship status changes to Husband. Once certain other conditions have been met, Django and the player can then try for children.
Additionally, upon meeting certain relationship levels, certain perks are rewarded.
Please note: the in-game description of Django's perks is incorrect. The levels his perks become active are lower. Django's actual perks are listed below.
Receive a 10% discount when consuming in the store or restaurant
Send gifts through the mail sometimes:
⁠⁠Bubblefish Soup (1)

Send gifts through the mail sometimes
Possible gifts are:
⁠⁠Bubblefish Soup (1)
⁠⁠Seafood Stew Mix (1)

Social Interactions
Edit
Chat is a basic social interaction available at any relationship level. Chatting with Django once a day can increase his relationship by 1 point, or 2 points with the Smooth Talk skill; subsequent chatting, on the same day, only results in the same conversation without any relationship gain.
Django's dialogue may change every day and every season. Django may also comment about certain events or missions. Higher relationship levels, including romantic involvement, also change Django's dialogue.
Giving gifts to Django affects the player's relationship with Django. Every character has unique gift preferences.
Tips:
Every giftable item, except for the items below, will have a Neutral (+1) effect when given to Django.
Gifts given on festival days and on Django's birthday will earn the player 2x and 3x relationship points, respectively, and will show a unique dialogue.
Values listed below are without The Giver skill, which gives an extra point.
Gifting
Items
⁠⁠Love: +20
⁠⁠Love: +15
⁠⁠Love: +12
⁠⁠Love: +10
⁠⁠Like: +9
⁠⁠Like: +8

⁠⁠Ruby

⁠⁠Like: +5

⁠⁠Sapphire

⁠⁠Like: +4

⁠⁠Topaz

⁠⁠Like: +3
⁠⁠Neutral: +1

⁠⁠Everything Else

⁠⁠Dislike: -1
⁠⁠Dislike: -2

⁠⁠Soil⁠⁠Stone⁠⁠Wildflowers⁠⁠Wood

⁠⁠Hate: -5
Version
2.0.137882
Listed values are without The Giver skill, which gives an extra point.

Gift values displayed on this chart are for the PC release of My Time at Portia and may not apply to the console releases.
The following items are desires, or wishes, which are randomly assigned to one or two characters per week. The player is required to be at least at Associate level with Django for him to be assigned a desire. More desires have a chance to appear as the player's friendship with Django progresses; the new desires are added to the existing ones but do not replace them. Some characters may desire an item that they do not normally like.
In the event that Django has a desire, gifting the wanted item will provide the higher tier points; otherwise, on non-desired events, the item gives the base point value. The birthday or festival day relationship bonus applies when gifting a desired item.
Django can spar with the player up to three times per day.
Note that the level in the table below is Django's base level at the start of the game. Django's actual level can be higher because Django will level up over time.
Level: 15
Relationship
Rewards/losses
Round
1
2
3
Player Win

(+1)

(+1)

(+2)
⁠⁠Gols (5-15)


And 30% chance to get one of the following:
⁠⁠Apple (30%)
⁠⁠Herbs (30%)
⁠⁠Roasted Meat (20%)
⁠⁠Herbal Juice (10%)
⁠⁠Baked Bread (5%)
⁠⁠Herbal Mixture (5%)


Player Lose

(+1)

(+1)

(-1)
⁠⁠Gols (1-10)

Django can play RPS with the player up to three times per day.
Django can partake in group photos with the player after reaching the Associate level.
More poses are unlocked by reaching higher relationship levels.
Romance poses are unlocked by becoming partners.
The "Photographer" skill can fully unlock all poses, regardless of relationship or romantic level.
All poses can be viewed in Django's Gallery page.
InvitationEdit
Occasionally, first thing in the morning, the player may leave their house to find Django outside, hoping to invite the player out for a date or play date.
Once the player has become buddies with Django, they can schedule a play date together.
After the player has successfully confessed how they feel to Django, the player can schedule a romantic date with Django.
If the player chooses to dine at The Round Table with Django during a play date or date, it is recommended to order dishes Django will like. If asked before ordering, Django will sometimes tell the player exactly which dishes to order; other times, Django will just give little hints. In the event that Django does not specify the exact foods desired, the player should order between three and six dishes, depending on what hint Django gives. It is recommended to order each of those dishes from different courses, ex. ordering one Appetizer, Meat, Vegetable, Dessert, and Drink course each, rather than five Desserts.
Django's food preferences are:
As the player develops their relationship with Django, special interactions are unlocked, including Hug and Kiss.
Relic TradeEdit
Django occasionally uses the Relic Pieces Exchange board at the Museum to trade for relic pieces. Django likes to look at particular completed relics, so after the player has donated such relics to the Museum or displayed them in their yard, Django may come visit the Museum or the player's yard to view these relics. Such visits will earn the player relationship points each time, with the amount dependent upon the relic.
Relic Trade
Points
Relics
Requested Pieces
+30
+10

Joystick Piece 1

Joystick Piece 2

Soldier with Axe Piece 1

Soldier with Axe Piece 2

Soldier with Axe Piece 3

Soldier with Axe Piece 4

Soldier with Axe Piece 5

Soldier with Blade Piece 1

Soldier with Blade Piece 2

Soldier with Blade Piece 3

Soldier with Blade Piece 4

Soldier with Blade Piece 5

Soldier with Lance Piece 1

Soldier with Lance Piece 2

Soldier with Lance Piece 3

Soldier with Lance Piece 4

Soldier with Lance Piece 5

Soldier with Scepter Piece 1

Soldier with Scepter Piece 2

Soldier with Scepter Piece 3

Soldier with Scepter Piece 4

Soldier with Scepter Piece 5

Favorite Exhibits
+???

???

Joystick

???

Soldier with Scepter

???

Soldier with Axe

???

Soldier with Blade

???

Soldier with Lance
Django can offer recipes in exchange for gols. These recipes will be recorded in the cookbook, accessed via Cooking Set. One recipe can be learned per day, though multiple variations exist for most recipes. More recipes are offered at higher relationship levels.
Recipes
Stranger
⁠⁠
Buddy
⁠⁠⁠⁠
Friend
⁠⁠⁠⁠⁠⁠⁠⁠⁠⁠
Legend: ⁠
⁠⁠
⁠ major • ⁠
⁠⁠
⁠ minor •

friendship •

romance

⁠⁠ Main missions are listed in chronological order, based on the chronology list.
⁠⁠ Secondary missions are listed in alphabetical order.
Indented missions indicate succession of the previously listed mission. Further missions in its timeline are in chronological order.
Django's practice sword is worn, he needs a new one for morning practice. Make one for him.
Mayor Gale recommends that you visit all of Portia's shop owners.
⁠⁠ Power On

The electric box powering the Game Room at The Round Table seems to have shorted, help Django fix it.
Check on Django and see what he's busy with.
⁠⁠ Taste Survey

It seems like McDonald has got some troubles, go and ask if you could help.
Commerce commissions
Edit
Django may post a commission on the commission board in the Commerce Guild. Below is a list of possible commissions.
Data is extracted from the database.
Rewards do not account for the skill Commerce Hot Shot, which increases the rewards output.
Some items with the same quantity may be listed twice, but each offer a different deadline or rewards.
Community content is available under
CC-BY-SA
unless otherwise noted.