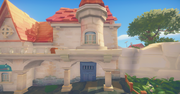 Jack is a child living in Portia. He is Alice's little brother. He attends school with Toby, Molly, Polly, and Dolly. Despite his age, Jack is very mature and will do anything to help his sister, including selling flowers for her.
Background
Edit
A refugee from Lucien, Jack came to Portia with his older sister, Alice, a few years ago. They were welcomed with open arms by the people of Portia, especially Sam, who took it upon herself to look out for the two. Jack became quick friends with Toby and the other local kids at school. He is very considerate and often being seen helping his sister sell flowers.
Personal Life
Edit
Jack was born on Winter of Day 19 in the city-state of Lucien. A refugee, he and his sister, Alice, came to Portia, and were taken care by Sam. Jack attends the Portia School with the other local children of Portia. He also helps his sister sell flowers.
Physical Appearance
Edit
Jack wears a lime colored tanktop with black edging and a soccer ball on the front over a high-necked white t-shirt and khaki pants with white sneakers. He wears a navy baseball hat.
Related Characters
Edit
Jack's older sister is Alice. They fled Lucien as refugees a few years ago and now live together in Portia. Jack supports his sister by helping her sell flowers. He is Friends with Toby, one of his classmates at school, and his schoolteacher is Lucy.
When befriending Jack, his relationship network with other NPCs will also be affected, resulting in the player receiving favor points from those NPCs as well. Note: Lucy is not a part of Jack's relationship network.
On Sundays: 9:00 - 15:00 Listening to Lee in the Church of the Light
| Time | Location |
| --- | --- |
| 7:00 | |
| 12:00 | |
| 17:00 | |
| 22:00 | |
| 0:00 | |
Relationship
Edit
Developing a friendly relationship with Jack unlocks new dialogue that reveals more about Jack and gives the player access to special relationship perks.
Add an extra 5% Resilience
Social Interactions
Edit
Chat is a basic social interaction available at any relationship level. Chatting with Jack once a day can increase his relationship by 1 point, or 2 points with the Smooth Talk skill; subsequent chatting, on the same day, only results in the same conversation without any relationship gain.
Jack's dialogue may change every day and every season. Jack may also comment about certain events or missions. Higher relationship levels also change Jack's dialogue.
Giving gifts to Jack affects the player's relationship with Jack. Every character has unique gift preferences.
Tips:
Every giftable item, except for the items below, will have a Neutral (+1) effect when given to Jack.
Gifts given on festival days and on Jack's birthday will earn the player 2x and 3x relationship points, respectively, and will show a unique dialogue.
Values listed below are without The Giver skill, which gives an extra point.
Gifting
Items
⁠⁠Love: +20
⁠⁠Love: +18
⁠⁠Love: +15
⁠⁠Love: +12
⁠⁠Love: +10

⁠⁠Roses

⁠⁠Like: +8

⁠⁠Balloon

⁠⁠Ruby

⁠⁠Like: +5

⁠⁠Sapphire

⁠⁠Like: +4

⁠⁠Topaz

⁠⁠Like: +3
⁠⁠Neutral: +1

⁠⁠Everything Else

⁠⁠Dislike: -1
⁠⁠Dislike: -2

⁠⁠Soil⁠⁠Stone⁠⁠Wildflowers⁠⁠Wood

⁠⁠Hate: -5
Version
2.0.137882
Listed values are without The Giver skill, which gives an extra point.

Gift values displayed on this chart are for the PC release of My Time at Portia and may not apply to the console releases.
Jack can partake in group photos with the player after reaching the Associate level.
More poses are unlocked by reaching higher relationship levels.
The "Photographer" skill can fully unlock all poses, regardless of relationship or romantic level.
All poses can be viewed in Jack's Gallery page.
Despite being ineligible for play dates, Jack has food preferences found in the game's data. His food preferences are:
Dining

Like

Dislike

Appetizer

Green Beans in Sauce

Pickles

Pickled Black Fungus

Fruit Salad

Vegetable Salad

Main Course

Meat

Sauteed Sweet and Sour Tenderloin

Vegetable

Spicy and Sour Potato

Steamed Potato Fruit

Pumpkin Pie

Stewed Mushrooms

Milky Pineapple Soup

Golden Radish Soup

Mapo Tofu

Bamboo Papaya with Egg-on-Top

Dessert

Drink

Red Tea

Milk Scented Tea

Exceptions:
Relic TradeEdit
Jack occasionally uses the Relic Pieces Exchange board at the Museum to trade for relic pieces. Jack likes to look at particular completed relics, so after the player has donated such relics to the Museum or displayed them in their yard, Jack may come visit the Museum or the player's yard to view these relics. Such visits will earn the player relationship points each time, with the amount dependent upon the relic.
Relic Trade
Points
Relics
Requested Pieces
+30
+10

Soldier with Lance Piece 1

Soldier with Lance Piece 2

Soldier with Lance Piece 3

Soldier with Lance Piece 4

Soldier with Lance Piece 5

Soldier with Blade Piece 1

Soldier with Blade Piece 2

Soldier with Blade Piece 3

Soldier with Blade Piece 4

Soldier with Blade Piece 5

Magic Lamp Piece 1

Magic Lamp Piece 2

Magic Lamp Piece 3

Weird Glass Jar Piece 1

Weird Glass Jar Piece 2

Weird Glass Jar Piece 3

Favorite Exhibits
+???

???

Magic Lamp

10

Weird Glass Jar

???

Soldier with Blade

???

Soldier with Lance
Community content is available under
CC-BY-SA
unless otherwise noted.