"
My Time at Portia – An Enchanting Sandbox Simulation RPG
An adventure inspired by Animal Crossing, Dark Cloud 2, Harvest Moon, and the works of Miyazaki.
"
— Kickstarter title and blurb[1]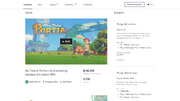 A Kickstarter campaign is a limited-time campaign hosted on the Kickstarter platform for backers to pledge money to help further development of projects, in this case furthering the development of games and expanding the available features and depth of content. Pathea Games has hosted two Kickstarters for the My Time series thus far: one for My Time at Portia and one for My Time at Sandrock.
My Time at Sandrock Kickstarter

[

]
The My Time at Sandrock Kickstarter was from October 26, 6am EST until November 22, 7am EST. The Sandrock campaign can be viewed here. The campaign reached its minimum funding goal of $100,000 USD in under 19 hours after its launch,[2] and ended with over $550,000 from the combined Kickstarter and Taobao fundraising, with over 10,000 backers worldwide.
Stretch goals were announced shortly after reaching the initial goal. These stretch goals are funding milestones that can be reached in order to develop extra content for the base game, available to all players.[2]
Add-ons of items from later tiers were later added to the campaign. Backers are able to add additional funds to their pledge to get extra rewards not available at their chosen tier.[3] The fancy wedding clothes is is only available on the $200 USD tier or higher; a simplified wedding dress is included on the list of add-ons.
Issues
[
]
Upon launch, would-be backers of physical rewards outside of three select countries were either unable to select their country for reward delivery or were prompted with excessively expensive shipping costs for said physical rewards. After troubleshooting by staff, over the course of the day, some backers were able to pledge of their desired reward successfully, though by the time of the initial $100,000 funding goal being reached, some backers were still unable to choose their country.
My Time at Portia Kickstarter

[

]
The My Time at Portia Kickstarter was launched by Pathea Games and Team17. At the time, My Time at Portia was in alpha 2.0 and was claimed to be 40% completed, and a functional demo version with six to eight hours of gameplay was, and still is, offered on Steam.[1]
The Portia Kickstarter campaign was launched on September 11, 2017 and ended on October 11, 2017, and an extension period began October 16, 2017 and lasted until midnight Eastern Standard Time on November 25, 2017. The Kickstarter campaign's goal was to reach $100,000 (USD) by the end of October 11, 2017. By pledging certain amounts of money, backers could gain access to different tiers of rewards. To promote the campaign, stretch goals were added to provide incentives for pledging, such as more side quests, more furniture, new Hazardous Ruins, and more. Such goals helped add livestock, the Portia Museum, and mounts to the base game. The campaign was successful and raised $146,697 from 3,708 backers, and was given a Projects We Love badge by Kickstarter.
Though the Portia Kickstarter campaign stated that a Mac release was planned and Linux release was a hopeful goal[4], neither operating system are yet supported as of August 1, 2020.
Though donations can no longer be made, the campaign can still be viewed on Kickstarter and update announcements for Kickstarter backers have been released as recently as April 19, 2019[5].
Rewards
[
]
Tiers
[
]
Kickstarter-exclusive items
[
]
Some of the content promised was added to the base game, while other rewards were exclusive to backers of the Kickstarter.
Digital items
[
]
In-game rewards are installed as downloadable content (DLC), available only to backers that pledged enough to reach certain tiers. Installed DLC is visible in the Main Menu of the game.
Depending on the backer's tier, the following rewards can be redeemed in-game:
The in-game rewards are split into five (originally four) DLC:[6][7]
DLC 1: Steel Lion
DLC 2: Steel Lion, Welding Helmet, Casual Welding Garment and Pants
DLC 3: the same as DLC 2, with the addition of Yoyo, the pet pangolin
DLC 4: Kickstarter T-Shirt
DLC 5: Yoyo
Warning: installing both DLC 3 and DLC 5 may cause two Yoyo pets to spawn, which is not advised. The Abandon Tag may not work, so the player may be stuck with two Yoyos whose pathing overlap and cause them to be buggy.
Additionally, backers who chose tiers with the My Time at Portia digital art book are able to redeem the PDF artbook via a download link sent in a Kickstarter rewards email. [ verify ] This PDF can be opened in any PDF reader program or app, or by any internet browser that can handle PDFs (ex. Microsoft Edge, Google Chrome). The art book features 135 pages of concept art of the world of Portia, its characters and other creatures, and items that can be found, gives some information about Pathea Games, and has a credits section that lists the roles and names of Pathea staff members as well as the names of all of the Kickstarter backers.
Physical items
[
]
A My Time at Portia t-shirt, artbook, copy of world map and Panbat plush toy are among the physical rewards. Even though the kickstarter shows a figurine of Linda, this item was never produced in the end. It has been replaced by a figurine of Ginger instead. All of these items are not available for purchase and are exclusively available as Kickstarter rewards.
Delays in receiving rewards
[
]
Backer-designed items
[
]
Certain items were designed by Kickstarter backers and attribute the backer who designed them in their description.
The following backer-designed items exist in the game files but are unimplemented in all versions of the game:
Gallery
[
]
My Time at Portia Kickstarter

[

]
References
[
]