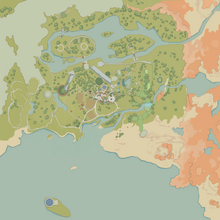 One of the most important resources the player has is their map, which helps them to navigate Portia, find characters, and view where objectives are for missions and commissions.
At the beginning of My Time at Portia, most of the map is hidden by fog of war. As certain main missions are completed, the fog will lift from sections of the map. By the end of the game, the map will be fully uncovered.
Interactive map
[
]
This interactive map marks noteworthy locations of interests that can be toggled under "Filters" to display all markers or specific categories. Zoom in or out using the mouse wheel or by utilizing the "+/-" buttons on the interface. Additionally, clicking on the markers displays more information, as well as relevant links.
Main points of interests (light blue)
Abandoned Ruins (green)
Dee-Dee Stops (blue)
Fishing spots (purple)
Hazardous Ruins (red)
Play and Date spots (pink)
Stores (yellow)
Using the map
[
]
There are various basic icons for navigating the map. Certain icons, such as those representing NPCs, may be upgraded to display more information as the player increases their Relationship with them.
Manage map
[
]
Certain map icons and place names can be individually toggled on or off in the map settings, located in the lower left of the map screen called "Manage Map". Settings include:
Construction info
Map text
Shop icons
Play and date
Fishing spots
Other map icons
Mission icons
Friend icons
Monster icons
Iconography
[
]
Dee-Dee Transport System
[
]
Main article: Dee-Dee Transport System
The Dee-Dee Transport System is a free fast travel service that becomes available after completing the mission Dee-Dee Stops Here. The player can place five main and ten optional Dee-Dee stops and fast travel between them.
Noteworthy locations
[
]
Portia
[
]
Other homes of various citizens
Near Portia
[
]
The Eufaula Desert
[
]
The Somber Marsh
[
]
Beyond
[
]
Gallery
[
]
References
[
]