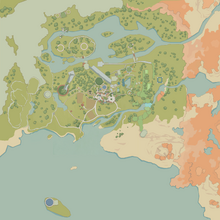 One of the most important resources the player has is their Map, which helps them to navigate Portia, find characters, and view where objectives are for missions and commissions.
Using the map
Edit
There are various basic icons for navigating the map. Certain icons, such as those representing NPCs, may be upgraded to display more information as the player increases their Relationship with them.
Certain map icons and place names can be individually toggled on or off in the map settings, located in the lower left of the map screen.
Dee-Dee Transport System
Edit
Main article: Dee-Dee Transport System
The Dee-Dee Transport System is a free fast travel service that becomes available after completing the mission Dee-Dee Stops Here. The player can place five main and ten optional Dee-Dee stops and fast travel between them.
Noteworthy locations
Edit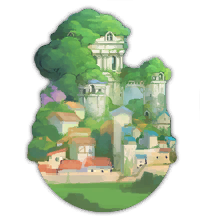 Other homes of various citizens
Near Portia
Edit
The Eufaula Desert
Edit
The Somber Marsh
Edit
Community content is available under
CC-BY-SA
unless otherwise noted.