Fire Emblem Warriors: Three Hopes - The Loop
Play Sound
↪

 Main article on MTaS Wiki: 

My Time at Sandrock
My Time at Sandrock[1] is a confirmed[2][3] continuation of the My Time at Portia universe. It was initially considered as downloadable content (DLC) for My Time at Portia, but was later decided to be a new, separate game and sets out to improve on My Time at Portia and includes many quality of life improvements. The game will be set in the desert city of Sandrock, another member of the Alliance of Free Cities and an active trade partner with the city of Portia. The Kickstarter launched on October 26, 2020, 6am EST, was live until November 22, 2020 7am EST, and can be viewed here.
Though not explicitly confirmed, it is possible that My Time at Sandrock may not be the only new game related to Portia in the future, as Pathea Games is open to the idea of expanding the universe and exploring its lore.[4] One such possible game is My Time with Peach.[5] Additionally, My Time in Duvos was teased, though only as an April Fools' joke.
Appearance
[
]
The first visual of the game was released on August 13, 2020[6], depicting a young character with short black hair overlooking a foggy, moody scene. The foremost ground consists of fairly smooth dirt and/or sand, with small gray rocks peeking out of it in sporadic spots. Wide, low-lying shrubbery and small trees can be seen near and on the craggy mountain in the distance, which may indicate that Sandrock is set in a chapparal and/or desert biome. Some type of tracks are installed on the ground and manmade lights are dimly visible in the mountainous area through the fog. Not much else is clearly discernible and further details about the character and area depicted are not yet known.
History
[
]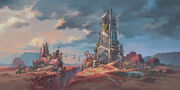 A Sandrock DLC for My Time at Portia was one of My Time at Portia's Kickstarter's goals in 2017, though it was not reached.[8] Despite the Kickstarter goal not being reached, a multiplayer Sandrock DLC had been mentioned since early 2018 in various developer comments on Steam.[9][10] No official news about it was announced, however, and few details were given.
In October 2019, the purported Sandrock DLC was confirmed to not be a DLC at all, but rather a new game. It was not specified if the new game would be limited to Sandrock, if any characters might return, or if any content from a My Time at Portia player's save files might be included in the new game.[2]
On December 3, 2019, new information was unveiled:
"
As many have heard, we have planned an extension to My Time at Portia, called Sandrock. (It'll actually be a different game, but is of the MTAP world). For Sandrock, we are designing it with a multiplayer feature in mind. It'll likely be a bit different than MTAP, but should maintain the same atmospheric and gameplay feel. We still have some things to work out, and are always listening to the community's suggestions and feedback :)
"
— Loah (developer)[3]
Prior to Loah's confirmation of possible multiplayer gameplay in the My Time at Sandrock game, there were various accounts of developer comments about the consideration of adding multiplayer to the unconfirmed Sandrock DLC. Multiplayer and/or co-op are features that have long been requested by players for My Time at Portia, but the game was designed with singleplayer in mind, as Pathea did not yet have experience with making a game with My Time at Portia's concept and did not want to risk "throw[ing] too many unknowns into the mix."[3]
On August 13, 2020, the first [ verify ] Steam announcement formally recognizing My Time at Sandrock was posted, though it did not name the game, opting instead to state "The next #MyTimeGame is under development (we have a picture to prove it)..."[6] This announcement was also the first time that imagery from Sandrock itself was shown.
A first story demo is open to public on Steam, from June 16 to June 22, 2021.
Characters
[
]
Few characters from My Time at Portia will appear in My Time at Sandrock. Mint was briefly shown napping next to a character from Sandrock playing a guitar, and Ginger and her family will be visitors as the reward for a successful Kickstarter stretch goal.
Very little information is currently published about My Time at Sandrock, though some information about Sandrock was published in the Portia Times after the version Steam 2.0.141082 update, revealing that the mayor of Sandrock is a tough lady named Trudy. More details about Cooper, the rancher quoted in the article, are currently unknown.
Buses to Sandrock Now Road-worthy
Reported by Mei
Information supplied by Mayor Trudy of Sandrock
Travelers rejoice! Tourists, gamers, and people who just love sand for some reason, your time has come! With affordable round-trips available every day of the week, traveling to Sandrock has never been easier. Try your luck at the fabulous Sandrock Gaming Center! Or have a glass of milk at the famous Sandrock Saloon! Ride one of the curious fuzzy creatures of the desert, a Yakmel! The possibilities are endless! Or, well, maybe not endless, but there are a lot of things to do.
"Y'all can come down and have yerself a lark just so longs as ye stay off my property!" - Local disgruntled rancher, Cooper
The Sandrock Board of Tourism has stated that reports of attacks by rampant bandit gangs have been greatly exaggerated, so bring the kids along, and enjoy fabulous, sunny Sandrock!
Gallery
[
]
System requirements
[
]
Minimum
Recommended

OS: Win 10
Processor: Intel Core i3-2100 | AMD FX-6300
Memory: 8 GB RAM
Graphics: Nvidia GeForce GTX760 | AMD Radeon 7950
DirectX: Version 11
Storage: 20 GB available space


OS: Win 10
Processor: Intel Core i7-9700K | AMD Ryzen 7 2700X
Memory: 16 GB RAM
Graphics: Nvidia GeForce GTX1060 | AMD Radeon RX 580
DirectX: Version 11
Storage: 20 GB available space

Videos
[
]
References
[
]
↑ Developer Loah's Steam profile: "My Time at Sandrock - TBA"
↑ 2.0 2.1 Developer Aaron Deng's response on the My Time at Other Places?? Portia 2? Steam forum thread: "Not DLC, but a totally new game, we will announce more details when we are ready,there are so many places were not done well in portia, we are going to improve them."(sic) October 13, 2019.
↑ 3.0 3.1 3.2 Developer Loah's response on the More QoL!! Steam forum thread. December 3, 2019.
↑ Developer Loah's response in the Whats up with the white filter/haze that washes out the colours? Steam forum thread: "We'll keep this in mind for our future Portia related games." December 3, 2019.
↑ Developer zede05's response in the To Answer Some Questions Steam forum thread: "If we do other cities, it'll be in sequels. We plan to change up our game play a bit for each game in this world. We're really interested in doing My Time with Peach. :)" January 17, 2019.
↑ 6.0 6.1 6.2 Announcement on Steam, August 13, 2020
↑ Announcement on Steam, September 29, 2020
↑ Developer zede05's response in the My 3 hours in My Time in Portia.... Steam forum thread: "Here's a nugget, we will seriously consider adding in coop for the DLC of Portia (Sandrock), but that's far away, after we're done with this game first. :)" January 26, 2018.
↑ Developer AaronDeng's response in the More updates after full release? Steam forum thread: "... if we did a good job about optimization and finished the main story we will consider about to make DLC base on another city in this post-apocalyptic world.'" August 7, 2018.