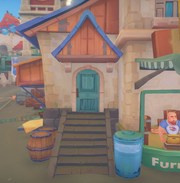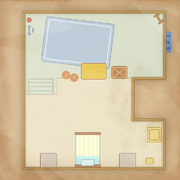 "
Paulie was made fun of as a skinny kid when he was growing up in Portia. This pushed him to become enamored in building up his body to become the strongest man in the city. Not satisfied with that, he also opened a furniture shop, because that's the manly thing to do.
"
Personal summary
Edit
Paulie was born on Winter of Day 25 in Portia. Growing up, he was always mocked for being skinny, causing him to build his body to become the strongest man in Portia. Eventually, he also founded Best Brother furniture store, claiming that it was the manly thing to do.
Paulie also runs the furniture store in Portia, called Best Brother.
Physical appearance
Edit
Paulie has a bandaid on above his right eye, blue eyes , a cross shaped scar on his left cheek, and a beard, his head is bald and his hair is a light brown color. He wears a t-shirt with a dark blue outline and light blue center and a red and blue shark logo, green cargo shorts and blue boots. He wears a bandage on his right arm. His shorts are held by a brown belt and his waist is wrapped with another belt. This belt is used to carry a pistol for self defense and his wood carving tools for furniture making as seen on his icon. Though no gun or tools are on his in game model.
Related characters
Edit
Paulie's closest connection in Portia is Mars, his Friend and the owner of the shop next door.
When befriending Paulie, his relationship network with other NPCs will also be affected, resulting in the player receiving favor points from those NPCs as well.
His home is in the same building as his shop (behind the green door at the top of a small set of stairs, beside his shop window) and is open from 7:00 AM to 21:00 PM.
| Time | Location |
| --- | --- |
| 7:00 | |
| 12:00 | |
| 17:00 | |
| 22:00 | |
| 0:00 | |
| Time | Location |
| --- | --- |
| 7:00 | |
| 9:45 | Leads the Civil Corps members in personal training session through Peach Plaza |
| 12:00 | Works at Best Brother |
| 17:00 | |
| 22:00 | |
| 0:00 | |
| Time | Location |
| --- | --- |
| 7:00 | |
| 12:00 | |
| 17:00 | |
| 22:00 | |
| 0:00 | |
Relationship
Edit
Receive a 10% discount when consuming in the store
Receive a 20% discount when consuming in the store
Receive a 25% discount when consuming in the store
Social interactions
Edit
Chat is a basic social interaction available at any relationship level. Chatting with Paulie once a day can increase his relationship by 1 point, or 2 points with the Smooth Talk skill; subsequent chatting, on the same day, only results in the same conversation without any relationship gain.
Paulie's dialogue may change every day and every season. Paulie may also comment about certain events or missions. Higher relationship levels, including romantic involvement, also change Paulie's dialogue.
Giving gifts to Paulie affects the player's relationship with Paulie. Every character has unique gift preferences.
Tips:
Gifting
Items
⁠⁠Love: +25
⁠⁠Love: +15
⁠⁠Love: +12
⁠⁠Love: +10

⁠⁠French Horn⁠⁠Roses

⁠⁠Like: +8

⁠⁠Fan

⁠⁠Ruby

⁠⁠Like: +6
⁠⁠Like: +5

⁠⁠Sapphire

⁠⁠Like: +4

⁠⁠Topaz

⁠⁠Like: +3
⁠⁠Like: +2

⁠⁠Hardwood

⁠⁠Neutral: +1

⁠⁠Everything Else

⁠⁠Dislike: -1
⁠⁠Dislike: -2

⁠⁠Soil⁠⁠Stone⁠⁠Wildflowers

⁠⁠Hate: -5
Version
2.0.137882
Listed values are without The Giver skill, which gives an extra point.

Gift values displayed on this chart are for the PC release of My Time at Portia and may not apply to the console releases.
The following items are desires, or wishes, which are randomly assigned to one or two characters per week. The player is required to be at least at Associate level with Paulie for him to be assigned a desire. More desires have a chance to appear as the player's friendship with Paulie progresses; the new desires are added to the existing ones but do not replace them. Some characters may desire an item that they do not normally like.
In the event that Paulie has a desire, gifting the wanted item will provide the higher tier points; otherwise, on non-desired events, the item gives the base point value. The birthday or festival day relationship bonus applies when gifting a desired item.
The Simple Desk will appear in Paulie's house if he receives it when desired.
Paulie can spar with the player up to three times per day.
Note that the level in the table below is Paulie's base level at the start of the game. Paulie's actual level can be higher because Paulie will level up over time.
Level: 30
Relationship
Rewards/losses
Round
1
2
3
Player Win

(+1)

(+1)

(+2)
⁠⁠Gols (5-15)


And 30% chance to get one of the following:
⁠⁠Apple (30%)
⁠⁠Herbs (30%)
⁠⁠Roasted Meat (20%)
⁠⁠Herbal Juice (10%)
⁠⁠Baked Bread (5%)
⁠⁠Herbal Mixture (5%)


Player Lose

(+1)

(+1)

(-1)
⁠⁠Gols (1-10)

Paulie can play RPS with the player up to three times per day.
Paulie can partake in group photos with the player after reaching the Associate level.
More poses are unlocked by reaching higher relationship levels.
Romance poses are unlocked by becoming partners.
The "Photographer" skill can fully unlock all poses, regardless of relationship or romantic level.
All poses can be viewed in Paulie's Gallery page.
Once the player has become buddies with Paulie, they can schedule a play date together.
After the player has successfully confessed how they feel to Paulie, the player can schedule a romantic date with Paulie.
If the player chooses to dine at The Round Table with Paulie during a play date or date, it is recommended to order dishes Paulie will like. If asked before ordering, Paulie will sometimes tell the player exactly which dishes to order; other times, Paulie will just give little hints. In the event that Paulie does not specify the exact foods desired, the player should order between three and six dishes, depending on what hint Paulie gives. It is recommended to order each of those dishes from different courses, ex. ordering one Appetizer, Meat, Vegetable, Dessert, and Drink course each, rather than five Desserts.
Paulie's food preferences are:
As the player develops their relationship with Paulie, special interactions are unlocked, including Hug and Kiss.
Legend: ⁠
⁠⁠
⁠ major • ⁠
⁠⁠
⁠ minor •

friendship •

romance

⁠⁠ Main missions are listed in chronological order, based on the chronology list.
⁠⁠ Secondary missions are listed in alphabetical order.
Indented missions indicate succession of the previously listed mission. Further missions in its timeline are in chronological order.
Help the injured Paulie make 3 Tea Tables.
Help A&G Construction deliver some wallpaper samples to customers before 18:00.
This is Gust's romance mission.
Paulie has commissioned you to make some Copper Blades, you'll need to assemble a Grinder in your homestead to make them.
Community content is available under
CC-BY-SA
unless otherwise noted.