Pine Cone is an ingredient used for cooking.
Obtaining
[
]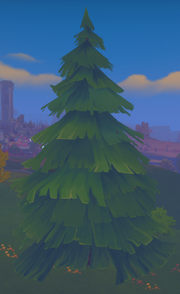 Pine Cone can be obtained by cutting down the pine trees on Bassanio Heights or the Western Plateau.
Usage
[
]
Cook
[
]
Ack
[
]
Pine Cone is used as an ingredient in one of Ack's recipes. Ack must first have his chip upgrade ability unlocked and have the No. 4 Cooking Recipe Data Chip installed in order to be able to make Steak with Coconut Juice. Ack's unique recipes cannot be made on a Cooking Set.
Gifting
[
]
Pine Cone can be given as a gift to other characters.