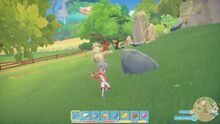 Quarrying
, also colloquially referred to as
mining
, refers to obtaining crafting materials by breaking rocks. The
player
can break rocks with either
Pickaxes
or a
Mini-Drill
, although larger rocks require stronger tools and/or a higher
attack
to break.
Tools and skills
Edit
Quarrying tools
Edit
Though large rocks initially require an Iron Pickaxe to mine, after the player gains a high enough attack stat of their own, large rocks can be mined with even a basic Pickaxe. (Successfully tested with a character at lv34 with 169 attack.)
Quarrying tools
Item
Attack
Cost per hit
Effect
Source

Pickaxe
Attack +50
-2
Can break small rocks
Mines a small area in Abandoned Ruins
Worktable

Bronze Pickaxe
Attack + 100
-3
Can also break medium rocks
Mines a medium area in Abandoned Ruins
Worktable

Iron Pickaxe
Attack +180
-4
Can also break large rocks
Mines a big area in Abandoned Ruins
Worktable

Fisherman's Pickaxe
Attack +260
-5
Can break any rock faster than an Iron Pickaxe
Mines a larger area in Abandoned Ruins
Worktable

Mini-Drill
Attack +300
-4
Can break any rock faster than a Fisherman's Pickaxe
Mines a huge area in Abandoned Ruins
Gift from Mint
Harbor
Useful skills
Edit
There are certain helpful Skills that either make it easier to mine, increase Stamina to be able to mine more, or reduce the amount of items needed for crafting on the Worktable so that less mining trips are needed. If the player wishes to reallocate their skill points (ex. investing points in Mastery of Pickaxe early on, then later switching to Expert Electrician), they can ask Phyllis for an Acupuncture treatment.
Gather skills
Skill
Levels
Effect
Tier 1

Mastery of Pickaxe
2
Stamina cost decreases by 25% 50% when using pickaxe
Tier 2

Advanced Mining
3
8 16% 24% chance of double drops when mining

Power Up
4
Maximum stamina increases by 2% 4% 6% 8%
Tier 3

Artisan
4
A 5% 10% 15% 20% reduction in material cost when crafting on the Worktable
Tier 4

Expert Electrician
4
Increase the damage of the Drill and Chainsaw by 10% 20% 10% 30% 40%
Tier 5

Charm Overload
1
A 100% chance to get rare items from Tree Farm and Dana's Mining Company deliveries
Battle skills
Skill
Levels
Effect
Tier 4

Loot
4
Chances of double-loot increases by 5% 10% 15% 20%
(Useful only with materials that are dropped by defeated creatures, such as Diamonds when dropped by Digger AIs)
Materials
Edit
Quarrying is a common source for some materials and the only source for others. Certain rarer materials are only found in medium and/or large rocks, such as Blood Stones and Topazes.
Community content is available under
CC-BY-SA
unless otherwise noted.