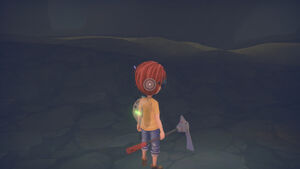 The Relic Scanner is a special item that can only be used in any of the four Abandoned Ruins. The player character puts on the relic scanner on automatically, and it takes up no inventory space.
When inside the Abandoned Ruins the player can activate the Relic Scanner to set it to show nearby relics, parts boxes, or other items as glowing dots. However, the player can not mine while the scanner is active, so they have to hover the cursor over one of the dots see until the progress bar is full; the player can turn the Relic Detector off after that, and the relic (represented by a dot) will still show up on the screen.
Upgrading
Edit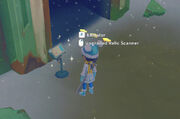 The Relic Scanner can be upgraded twice: first after completing Fixing Ack and second after completing The Burnt Warehouse. The scanner can be updated at the elevator panel outside any Abandoned Ruins. The player will receive a letter in the mail stating that an upgrade is available.
The first update to the Relic Scanner shows the shape of the objects instead of a dot, and three relics can be highlighted instead of just one at a time.
The second upgrade costs 5,000

; it reveals five items and their names all at once in addition to their shape. The speed of the scanner is highly improved, scanning items at a rate of less than one second. After scanning one item, four other items in close proximity on the screen are scanned as well.
Community content is available under
CC-BY-SA
unless otherwise noted.