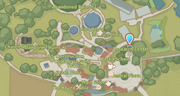 The
Research Center
is the local research facility where the scientists
Merlin
and
Petra
work to develop technologies using relics from the past. The building is located just north of the Central Plaza, on the East side of town. You can typically find Merlin and Petra here during the day. Hours are 09:00 - 18:00.
Relic recovery
Edit
The Research Center has its own Recovery Machine in-house, used for assembling relic pieces into complete relics. The machine is located inside the Research Center.
To use the Recovery Machine the player needs to obtain all of the pieces of a given relic by quarrying in one of the Abandoned Ruins. (Note: All pieces for a given relic will be found in the same ruin.) Once the player has all of the pieces, they can bring the pieces and some Data Discs to the Research Center and use the Recovery Machine to combine those materials into one restored relic. Most relics can then be donated to the Museum, sold, used as furniture, or given as gifts.
The player can obtain a Recovery Machine of their own after donating a certain amount of items to the Museum.
Research Center Exchange
Edit
Main article: Research Center Exchange
Research Center Exchange is a shop located inside Research center where the player can exchange Data Discs for a number of useful items, including Research Notes for increasing the Factory output, data chips for upgrading Ack, and several assembly diagrams.
The Exchange can be accessed during the Center's working hours by interacting with the cash register in the middle of the Research Center.
Disc recovery
Edit

When talking with Petra, the player can select Research to turn in Data Discs. Petra takes the discs and researches them before sending a new Handbook diagram to the player in the mail. The time required to research each diagram varies; see the table below.
The blueprints researched depend on the number of Data Discs handed in; each unique blueprint requires a specific number of discs (i.e. handing in 10 Data Discs will research a 10-disc blueprint, and handing in 5 discs will research a 5-disc blueprint; see the table below).
Handing in more Data Discs or certain components related to the current research will speed up the research process and allow the player receive the results faster.
Several quests will send the player to the Research Center for quest specific blueprints. Quest research does not interfere with normal research progress and can be done in parallel to baseline research and all other quest research, should any happen at the same time.
This information may or may not be accurate to console versions, and was obtained from this old version of the Research Center page. This table only includes the baseline research diagrams, and does not include main mission diagrams. For main mission diagrams, console players can refer to the Source column of the PC version's table.
Community content is available under
CC-BY-SA
unless otherwise noted.