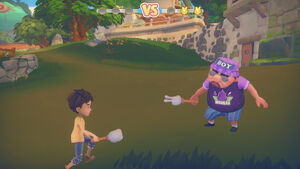 Rock, Paper, Scissors
(commonly abbreviated as
RPS
) is a
social
mini-game between two players attempting to dominate the other by choosing the superior option. Playing rock, paper, scissors will consume 5
stamina
points. Most townsfolk can play rock, paper, scissors.
Each player attempts to dominate the other player by choosing the superior option.
Each player needs to win a total of three times.
When the player character wins, he or she will receive +1 or +2 relationship points from the NPC.
Characters
Edit
Below is a list of characters eligible for rock, paper, scissors.
Community content is available under
CC-BY-SA
unless otherwise noted.