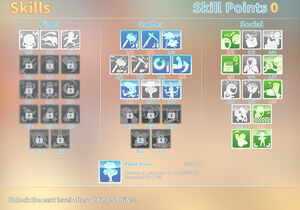 Skills are a set of ability enhancers, allowing the player to benefit from certain actions.
There are three types of skills, each with their own tree: battle, gather, and social. Battle skills focus more on combat by strengthening attack damage, defense, Experience gain, and faster recovery. Gather skills focus on cultivation, lumbering, mining, and fishing, with a minor emphasis on Endurance and Stamina boosts. Social skills focus on social benefits, such as increase in Relationship points, sparring, and dating.
For every level gained, one skill point to upgrade a skill is earned. The maximum level a player can be is 99, for a maximum of 98 skill points, whereas the point total of all skills is 137. Therefore, it is impossible to fully level up every skill.
Each skill tree starts from the top row, and a total of five skill points must be invested in each row to unlock the next level of that specific skill tree. Each skill can be assigned a set number of skill points, ranging from one to five skill points. Skills with multiple levels increase their effect the higher their level is upgraded.
Skill reset
Edit
Main article: Acupuncture

Skill resets can be done by getting an acupuncture treatment from Phyllis while she is in Dr. Xu's Clinic. Upon getting acupuncture, all skill point allocations are reset, allowing for restructuring of the skill tree.
There is a 1000
fee for the first time, increasing by 600
after each visit.
Tier 1
Skill
Levels
Effect

Intensive Training
5
Experience gained increases by 5% 10% 15% 20% 25%

*

Evasive
3
Endurance usage decreases by 3 6 9 when dodge-rolling

Dash
2
Endurance usage decreases by 3 6 per second when sprinting
Tier 2
Skill
Levels
Effect

Strike
4
Damage increases by 12% 24% 36% 48%

Guard
4
Defense increases by 15% 30% 45% 60%

Toughness
4
Maximum health increases by 5% 10% 15% 20%
Tier 3
Skill
Levels
Effect

Aggressive Stance
4
For every 1% decrease in health, damage increases by 0.2% 0.4% 0.6% 0.8%

Defense Posture
4
For every 1% decrease in health, damage taken decreases by 0.1% 0.2% 0.3% 0.4%

Recovery
2
Endurance recovery rate increases by 5% 10%
Tier 4
Skill
Levels
Effect

Loot
4
Chances of double-loot increases by 5% 10% 15% 20%

Healer
3
Recovery effect increases by 8% 16% 24% when using recovery items

Follow Victory
3
Duration of buff effects increases by 8% 16% 24%
Tier 5
Skill
Levels
Effect

Precision Strike
1
Increases critical damage with a ranged weapon by 50%

Fatal Strike
1
Increases critical damage with a melee weapon by 50%
Tier 1
Skill
Levels
Effect

Mastery of Axe
2
Stamina cost decreases by 25% 50% when using axe

Mastery of Pickaxe
2
Stamina cost decreases by 25% 50% when using pickaxe

Lucky Me
5
Tree kicking and harvesting activities have a 6% 12% 18% 24% 30% chance to double the loot.
Tier 2
Skill
Levels
Effect

Advanced Lumbering
3
8 16% 24% chance of double drops when Lumbering

Advanced Mining
3
8 16% 24% chance of double drops when mining

Lively
4
Max endurance increases by 5% 10% 15% 20%

Power Up
4
Maximum stamina increases by 2% 4% 6% 8%
Tier 3
Skill
Levels
Effect

Fish Encyclopedia
1
Identify a fish before fishing

Farm Guru
4
Chance to get extra production from cultivation increases by 10% 20% 10% 30% 40%

Artisan
4
A 5% 10% 15% 20% reduction in material cost when crafting on the Worktable
Tier 4
Skill
Levels
Effect

Livestock Guru
4
Increase the effectiveness of petting in the Coop and the Shed by 10% 20% 10% 30% 40%

Expert Electrician
4
Increase the damage of the Mini-Drill and Chainsaw by 10% 20% 10% 30% 40%

Mount Training
3
Get an extra 25% 50% 75% growth for the mount each training session
Tier 5
Skill
Levels
Effect

Born to ride
1
Decrease the difficulty of taming a mount by 25%

Charm Overload
1
A 100% chance to get rare items from Tree Farm and Dana's Mining Company deliveries
Tier 1
Skill
Levels
Effect

Smooth Talk
5
A 20% 40% 60% 80% 100% chance to receive 1 additional Relationship Points when chatting

The Giver
5
A 20% 40% 60% 80% 100% chance to receive 1 additional Relationship Points when gifting

Commerce Hot Shot
4
Increase the workshop points by 1 2 3 4 and rewards by 5% 10% 15% 20% after completing each commission
Tier 2
Skill
Levels
Effect

Business Mind
4
Items can sell for 2% 4% 6% 8% more

Fair Fight
4
When Sparring, 20% 40% 60% 80% chance to increase 1 Relationship Points regardless of the outcome. A 20% chance to receive double the loot if you win.

Altruistic
4
Get an extra 1 2 3 4 relationship points from gifting
Tier 3
Skill
Levels
Effect

Happy Camper
4
Mood meter increases 5% 10% 15% 20% more while playing or dating

Matchmaker
3
Confession success rate increases by 10% 20% 30%

Big Player
5
Get an extra +1 2 3 4 5 action point(s) while playing or dating
Tier 4
Skill
Levels
Effect

Intimate Interaction
5
Daily interactions with other people: 1 2 3 4 5

Custom Discount
5
Decrease the cost of exchanging for items at the Gift Exchange by 10% 20% 30% 40% 50%
Tier 5
Skill
Levels
Effect

Social Maniac
1
Play can be activated at the Associate NPC level

Photographer
1
Unlock new selfie pose