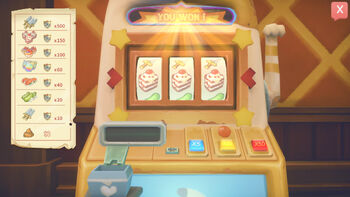 Slots is a PC version-only minigame that can be played in the game room of The Round Table in exchange for Knight Badges. Playing Slots costs 5, 10, or 50 gols and can reward up to 500 Knight Badges. In the game, three slots are spun and stopped, landing on an image. When three images are aligned and all are the same (or at least two swords), Knight Badges are rewarded. Each image rewards different points, while the Animal Feces rewards no points. It is widely considered to be the hardest game in the game room to win, but has the largest possible payout per single play. Despite being modeled after a game of chance, the results are not random, and are based of the timing of the stopper.
The slots are spun by inserting Gols.

x5 costs 5 Gols, x10 costs 10 Gols, and x50 costs 50 Gols.
The higher the cost, the more Knight Badges rewarded.

In order to win, all three images must be the same. In other words, the player must land a triple image to win.

The player may land a double sword and still win, however.

If one or more images are dissimilar, the player earns nothing.
Landing on Animal Feces rewards nothing.
Exiting the slots game is considered a forfeit.
Slot images
Edit
Image
Cost

Triple Sword
x30
x80
x500

Triple Cake
x15
x30
x150

Triple Tart
x10
x20
x100

Triple Lemonade
x6
x12
x60

Triple Steak
x4
x8
x40

Triple Pickle
x2
x4
x20

Double Sword
x1
x2
x10

Animal Feces
0
0
0
Victory Conditions
Edit
Selecting the stopper at the right time decides the outcome of the slot machine. All three columns are arranged the same way and produce the same results. As it can be almost impossible to click on an image as it is seen, knowing the order of images can help to time it. The images are ordered, as follows (from top to bottom) and the results of selecting them perfectly:
| Slot | | Result |
| --- | --- | --- |
| Animal Feces | ⁠⁠ | Animal Feces |
| Fruit Tart | ⁠⁠ | Pickle |
| Rainbow Lemonade | ⁠⁠ | Well Seasoned Ribs |
| Slot Sword | ⁠⁠ | Animal Feces |
| Black Forest Cake | ⁠⁠ | Fruit Tart |
| Pickle | ⁠⁠ | Rainbow Lemonade |
| Well Seasoned Ribs | ⁠⁠ | Black Forest Cake |
Most results mirror the order; however, selecting Animal Feces or Slot Sword always results in Animal Feces. Notably, there is no selection that always results in Slot Sword, as the selection varies. The choice that results in Slot Sword seems to be randomly selected and seems to change about every three games. [ verify ]
Console versions
Edit
On console versions, the Slots game is entirely missing, showing only empty space where the machine is on PC versions. There is currently no official word on why the Slots are missing, but it may be due to gambling laws in some countries, PEGI rating compliance, or a combination of both. [ verify ]
Console players may instead play Darts or Shoot Balloons to gain more Knight Badges.
Community content is available under
CC-BY-SA
unless otherwise noted.