Slurpees are hostile creatures that can be hunted for loot, ranging from level 11-15.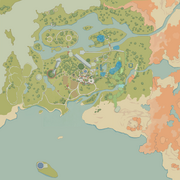 Slurpees can be found in groups within the
Collapsed Wasteland
, spawning from
15:00 to 1:00
. Like other creatures, they will respawn if the player enters and then leaves a building during their spawn times.
If a large number of Slurpees are defeated, one or more Flurpees may spawn. These pink elite creatures range from approximately level 20-25 and have a strong multi-hit AoE attack that can be devastating to a lower-leveled player.
Slurpees are very slow creatures, and are able to enter water like like all other creatures. They wander idly until they see an outside entity, like the player.
After provocation, they will travel at a slow speed, running slightly slower than the player. When attacking, Slurpees will shoot a forceful stream of water out of their mouths, dealing damage to the player up to three times in a row.