A shining yellow gem, fetches a good price.
Obtaining
Edit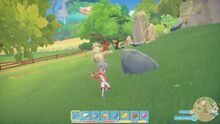 There are several ways to get
Topaz
:
Used for crafting some Gifts :
Can also be traded to the Mysterious Man for furniture:
Ginger asks for 3x Topaz as a commission.
Data taken from game assets, game version 7.0100427. Listed values are without The Giver skill, which gives an extra 1-2 points.
All other characters will default to Neutral (+1).