Topaz
is a
raw material
used in
crafting
,
trading
, and
gifting
.
Obtaining
Edit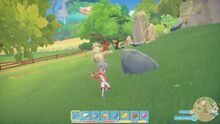 Topaz can be gathered from the following locations:
Mined from medium or large rocks near the outside of Portia's walls or around the rim of the collapsed lake in the Collapsed Wasteland; the player can acquire more Topaz with the Skill Advanced Mining.
Mined from a rare yellow gemstone deposit in the Eufaula Desert
Topaz may be delivered by Dana's Mining Company; can acquire more by upgrading the service and/or with the Skill Charm Overload. [ verify ]
Topaz is used as a crafting material and universally liked gift. It can also be traded at the Mysterious Man's store.
Three Topazes are needed to complete Habits of Ginger mission.
Worktable
Edit
Topaz is a required ingredient when crafting the following items:
Assembly Station
Edit
Topaz is a required ingredient when crafting the All Source Model:
10 Topazes can be traded at Mysterious Man's store in exchange for one Man-eater Sofa.
Topaz can be given as a gift to other characters. It is a universally liked gift.
Gifting
Characters

Like: +4
Everyone Else

Like: +1

Neutral: +1

Dislike: -2
Version
2.0.137882
Listed values are without The Giver skill, which gives an extra point.

Gift values displayed on this chart are for the PC release of My Time at Portia and may not apply to the console releases.
Community content is available under
CC-BY-SA
unless otherwise noted.