"
The machine is so powerful that it can be used to transport water from the water to high places.
Water Engine is a machine used in Mission: Saving the Tree Farm, as well as Commerce Commisions.
Obtaining
Edit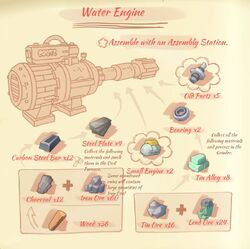 Can be crafted after obtaining Water Engine (Diagram), which can be obtained for 6
during Mission: Vehicle Pitstop.
Alternatively, the diagram can be bought from the Research Center Exchange for 16
.
Used in Mission: Vehicle Pitstop and in some city Commissions.
The Water Engine can be donated to the Museum as a Medium Assembled Item. When donated, it gives:


Reputation +25.
Cannot be Gifted.