The Winter Solstice is an event taking place on Winter of Day 23. It marks the tradition that began with people in the Age of Darkness tossing food items into the hot pot to survive. This event starts at 10:00 and ends at 15:00.
Introduction
Edit
The purpose of the Winter Solstice is to toss food ingredients into the hot pot. After tossing ten items, the player can grab a non-inventory serving of the hot pot, which will heighten some of the player's abilities for a limited time. The townsfolk can also toss in food, but may also request food ingredients; when the request is granted, the character gains relationship points, depending on the type of food. Most food ingredients can be purchased from Emily's Food Stall; other ingredients must be gathered elsewhere, such as Ginger, Bamboo Papaya, Meat, Snake Meat, Lantern Fish or Wise Fish.
Several characters have a special dialogue specifically made for this event.
Food ingredients
Edit
Below is a list of food ingredients that can be tossed in to the hot pot.
This list is incomplete.
Emily's Food Stall
Edit
Main article: Emily's Food Stall
During this event, Emily opens up her food stall between the hours of 7:00 to 15:00. She sells a wide variety of food ingredients that can be used on the hot pot.
Special Group Photos
Edit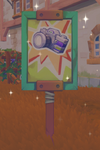 When the Solstice Hotpot and Snowball Fight finishes, special group photo opportunities will become available. They are marked on the
map
with

icon. Activate the glittering camera sign (right) and you'll take a group photo with the people standing next to the sign. The pose is unique to this festival and group of people. Try and get them all before the day ends!
Keeping the spiciness of the Hot Pot above 85 for 10 seconds or longer will trigger the A True Hotpot achievement. The easiest way to do this is to stock up on Chili Peppers and just keep putting them in the pot.