The Winter Solstice is an event taking place on Day 23 of Winter. It marks the tradition that began with people in the Age of Darkness tossing food items into the hot pot to survive. This event starts at 10:00 and ends at 15:00.
Introduction
Edit
Before the festivities start Gale and Lee deliver a short speech:
| | |
| --- | --- |
| ⁠⁠ | Thank you all for gathering here today. Before we start, I invite Minister Lee to deliver a sermon for us. Minister? |
| | |
| --- | --- |
| ⁠⁠ | Thank you Gale. Well, nice havin' everyone out on this very cold day. I'm going to keep this short since the smell is oh-so-good! Django, you're getting good at this! |
| | |
| --- | --- |
| ⁠⁠ | I'm going to tell the story of how the Winter Solstice tradition got started. Long ago, in the bleakest period of the Age of Darkness, there was no light to be found. People rose in the morning and went to bed at night in total blackout. Food was scarce and the crops were failing. And it was cold... very, very cold! |
| | |
| --- | --- |
| ⁠⁠ | Many people died. On an especially cold Winter Solstice, a few of the strugglers started a fire to keep warm. When one of them suddenly said: 'I still have a can of beans, let's heat it up and share it!' Someone followed by saying: 'That's not enough, I still have some mushrooms, let me put that in as well!" One after another, people gave up what they had left. |
| | |
| --- | --- |
| ⁠⁠ | By the time they're done, the pot was full of wonderful and filling things. These people ate and laughed and went on to survive that day, and the next, and the day after that. Until the sun finally came out. |
| | |
| --- | --- |
| ⁠⁠ | Even though we're seeing better times now, we need to remember what got us to this point. We shared our offering, provided help to one another, and together made out current happiness possible. So please never forget that! God bless. |
| | |
| --- | --- |
| ⁠⁠ | Thank you for that wonderful sermon, Minister. Now then everyone, let's throw in what we have! |
| | |
| --- | --- |
| ⁠⁠ | That smells so delicious! Let's get ready to eat! |
The purpose of the Winter Solstice is to toss food ingredients into the hot pot. After tossing ten items, the player can grab a non-inventory serving of the hot pot, which will heighten some of the player's abilities for a limited time. The townsfolk can also toss in food, but may also request food ingredients; when the request is granted, the character gains relationship points, depending on the type of food. Most food ingredients can be purchased from Emily's Food Stall; other ingredients must be gathered elsewhere, such as Ginger, Bamboo Papaya, Meat, Snake Meat, Lantern Fish or Wise Fish.
Several characters have a special dialogue specifically made for this event.
Food ingredients
Edit
Below is a list of food ingredients that can be tossed in to the hot pot.
Emily's Food Stall
Edit
Main article: Emily's Food Stall
During this event, Emily opens up her food stall between the hours of 7:00 to 15:00. She sells a wide variety of food ingredients that can be used on the hot pot.
Emily's Food Stall

Emily's Food Stall ⁠⁠
Item
Name
Amount
Price

Meat

Meat
20
4 ⁠⁠

Egg

Egg
10
8 ⁠⁠

Sugar

Sugar
10
8 ⁠⁠

Lettuce

Lettuce
5
28 ⁠⁠

Potato Fruit

Potato Fruit
5
16 ⁠⁠

Layered Carrot

Layered Carrot
5
40 ⁠⁠

Pumpkin

Pumpkin
5
24 ⁠⁠

Chili Pepper

Chili Pepper
5
20 ⁠⁠

Cornball

Cornball
5
52 ⁠⁠

Chicken

Chicken
5
16 ⁠⁠

Salt

Salt
10
4 ⁠⁠

Coriander

Coriander
5
8 ⁠⁠

Catfish

Catfish
5
120 ⁠⁠

Golden Salmon

Golden Salmon
5
120 ⁠⁠

Banner Fish

Banner Fish
5
120 ⁠⁠

Frog Fish

Frog Fish
5
300 ⁠⁠

Koi Fish

Koi Fish
5
160 ⁠⁠

Bubblefish

Bubblefish
5
400 ⁠⁠

Red Mushroom

Red Mushroom
5
40 ⁠⁠

Shaggy Mane

Shaggy Mane
5
32 ⁠⁠

Rock Salt

Rock Salt
5
16 ⁠⁠

Cumin

Cumin
5
12 ⁠⁠

Lobster Meat

Lobster Meat
5
12 ⁠⁠

Lobster Claw

Lobster Claw
5
48 ⁠⁠

Cinnamon

Cinnamon
5
32 ⁠⁠

Palm Jujube

Palm Jujube
5
32 ⁠⁠

Firefish

Firefish
5
180 ⁠⁠
Special group photos
Edit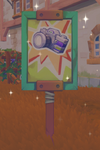 When the Solstice Hotpot and Snowball Fight finishes, special group photo opportunities will become available. They are marked on the
map
with

icon. Activate the glittering camera sign (right) and you'll take a group photo with the people standing next to the sign. The pose is unique to this festival and group of people. Try and get them all before the day ends!
Festival Dialogue Edit
Keeping the spiciness of the Hot Pot above 85 for 10 seconds or longer will trigger the A True Hotpot achievement. To get this achievement, the player should keep a large amount of Chili Peppers in the inventory and add these one at a time as quickly as possible until the achievement triggers. Items requested from the other Portians should be ignored.
Community content is available under
CC-BY-SA
unless otherwise noted.